Proposal Writing Training
Proposal Writing Training for Proposal Teams is designed for proposal and business development teams tasked with generating new business despite the complexities of the RFP process or the ferocity of the competition. It's purpose is not only to show you how to write good and effective proposals, it's to provide insight into how the formal procurement process works and how you can benefit from it.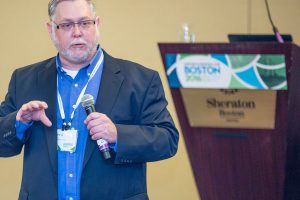 The first day of our proposal writing training class is interactive lecture. It addresses three main topics; proposal writing best practices, proposal messaging best practices, and section by section instruction for writing compelling proposal content.
Topic #1: Proposal writing best practices
Focusing on the customer. Students learn the importance of, and techniques for, making your content more about the customer and less about your company.
Targeting personal motivations. Students learn how personal motivations drive organizational objectives, how to address them, and how to handle risk.
Writing to persuade. Students learn the importance of persuasion, how to build persuasive arguments, and how to use evidence to support their message.
Differentiating your solution. Students learn the importance of differentiation, and how to differentiate your solution so it resonates with the buyer.
Improving skimmability. Almost nobody reads a proposal cover to cover. Students learn how to draft proposal content to make it exceptionally easy for reviewers to skim while still understanding your sales message.
Improving readability. Readability is just as important as skimmability. Students learn techniques to make your proposal content as easy as possible to read.
Topic #2: Proposal messaging best practices
It doesn't matter how well you write if you don't have the correct message. This portion of the course teaches students how to transform your kickoff meetings into sales strategy meetings, and through that, how to build effective, customer-focused sales messages.
Topic #3: How to write proposal content, section by section

How to write executive introductions
How to approach and write cover letters
How to draft title pages that get attention and differentiate your proposal from others
How to transform customer references into compelling stories that influence decision makers
How to write answers to RFP questions so they are persuasive, compelling, customer focused, and differentiate your solution from competitive alternatives
How to transform boring company overviews into compelling stories that influence buyers
Optional 2nd Day Proposal Writing Workshop
The proposal writing training workshop, which is optional, gives students an opportunity to practice drafting proposal content based on the lessons they learned the previous day.
Drafting executive introduction content so it is compelling and persuasive.
Drafting a title page that gets attention.
Drafting customer references that are persuasive and meaningful.
Writing answers to RFP questions so they are persuasive, customer-focused, and where possible, differentiate your solution.
*All of the content we develop in the class is based on your own, internal content from past proposals you've written. By the end of the day, your staff will have new, persuasive content they can begin using for their very next project.
What Our Students Have to Say
I attended your class at my last company. It was so good I wanted my new company to benefit also
The workbook was a great tool…
The proposal training workbook was fantastic
The proposal training class was excellent! Dave really provided some extremely useful information, tips, and suggestions… It will completely shift the way we do things in the future. I would recommend the class to anyone that has to write business proposals.
I highly recommend Dave's work and the Proposal Training Course he teaches. After completing the proposal course and meeting Dave, you will find you actually re-think everything you write or prepare from proposals to presentations, letters, and even daily emails.
The speaker's easy going style and his breadth of knowledge about sales and RFPs made this one of the single most effective training I've received in this area…
Alternative learning options
Some people prefer online learning vs. instructor-led programs. If you are interested in online learning, please review our proposal training class list.
To learn more, please contact Dave Seibert at 513-598-4647 or by email at [email protected]. Or you can use the form below and Dave will followup with you by email.