Proposal Best Practices
By: David L. Seibert
Proposal Best Practices:
A Practical Guide to Improve
Your Win Rates When Responding
to Non-Federal RFPs
Filled with actionable advice, practical recommendations, and lots and lots of examples, Proposal Best Practices shows you the most important things you have to do to win more business when responding to RFPs from other businesses or SLED (state and local government or educational) agencies. It discusses what to do before an RFP comes out, how to write compelling proposal content once the RFP is released, what to do after a proposal is submitted, and more.
Far from a long, boring text, Proposal Best Practices is an easy-to-read and practical guide that's as entertaining as it is informational. Read it. Apply it. Profit from it.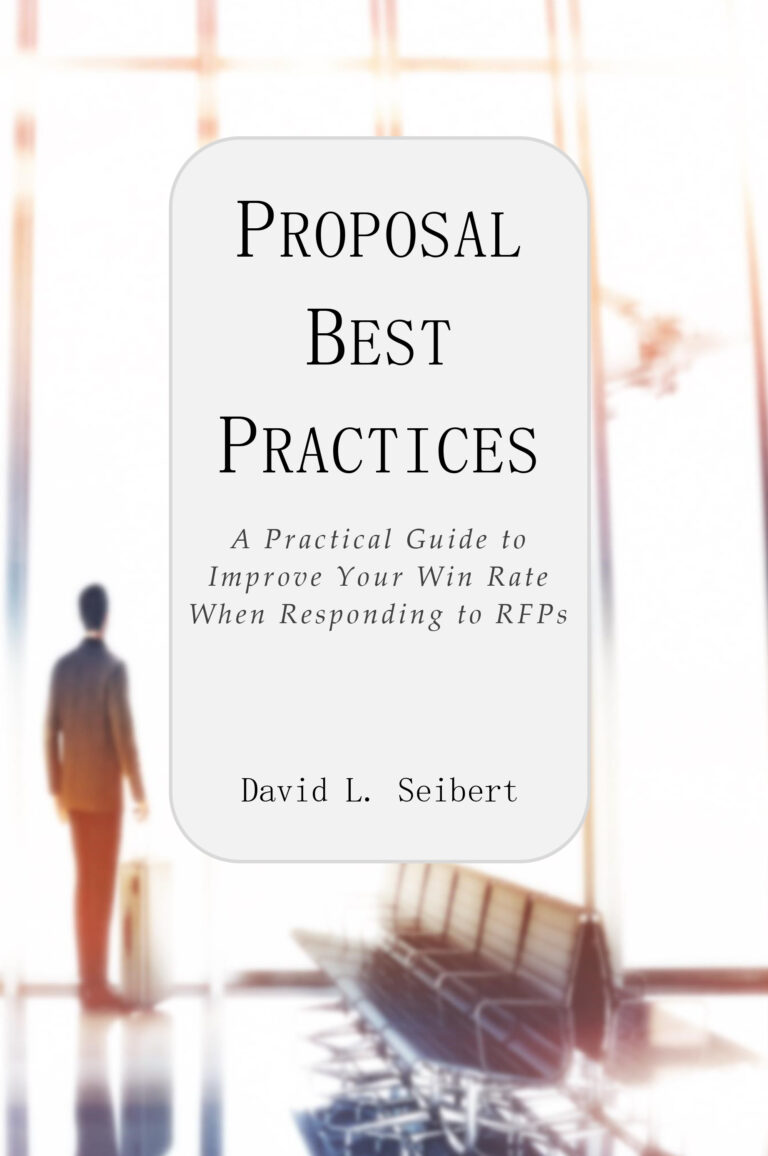 Proposal Best Practices is filled with actionable advice,
practical recommendations, and lots and lots of examples.
What readers have to say about
Proposal Best Practices
Dave Seibert has filled this book with compelling and actionable information on every page. You will improve your win rate and gain new respect from the clients you serve.
Proposal Best Practices should be a MUST READ for all sales professionals and anyone involved in the proposal development process, from writers to managers to reviewers. If you're involved in any aspect of business development, I highly recommend this book to you.
GREAT RESOURCE - A MUST READ FOR THE ENTIRE BUSINESS DEVELOPMENT TEAM. This book is well organized and easy to read. The author provides excellent examples to drive his points home. If you are serious about improving your win rate, you should read this book and implement the recommendations/best practices. This book is not just a good read for proposal writers. Everyone involved in the business development effort needs to read the book. Too often I have heard proposal writers express frustration that the company leadership doesn't take their advice - and it was good advice - it is advice covered in this book. Business leaders - please read this book and listen to your proposal managers and watch your win rate increase!
Whether you're a proposal manager or participating in writing and reviewing a proposal, this book is indispensable. It's a well-written, engaging read beginning to end, full of honest "from the trenches" advice. It's also a browse-able resource on every topic from best practice process to persuasive writing. I've been managing proposals for about 20 years now, and Mr. Seibert's real-world experience, actionable advice, and easy to understand (and share) examples had me wishing someone had told me these things so clearly when I was back in the trenches. I say, buy this book, read it, carry it around and consult it. But also consider buying copies for your team to jump-start the efficiency and quality you're looking for on your next proposal!
David Seibert has an enjoyable writing style... I'm applying the lessons I learned many times a day.
This book is great! It is the most comprehensive and practical guide to proposal writing I have ever read.
I love the tone, and it was such a fun, easy read. I really enjoyed your use of anecdotes and examples.